peter gleick
PolluterWatch: Greenpeace Investigates Heartland Institute Leaked Documents -- click to see investigation and ongoing updates.
UPDATE: After dropping support for ALEC, Pepsi distances itself from the Heartland Institute's climate denial.
Perhaps the most outrageous revelation of "Denialgate," the leak of internal Heartland Institute budget and fundraising documents detailing their 2012 work plan to obstruct global warming policy, is a project to develop school curricula to teach K-12 students that there is doubt over the causes and implications of global warming.
What hasn't been reported is the complementary role of the American Legislative Exchange Council (ALEC), which has peddled laws written by corporate lobbyists through state legislatures that make it easy for its dirty energy members, such as Exxon, Koch Industries and Peabody coal, to influence how climate science is presented to students. The so-called "Environmental Literacy Improvement Act," which has been introduced in seven states and became law in at least three, would establish a state-level council to oversee all scientific material presented to students, allowing companies to smother classroom science with K street politics. This council would notably exclude anyone with environmental science credentials, instead composing itself in the following proportions:
Basically, it ensures that climatology will be underrepresented. Note that environmental science is interdisciplinary, open to a variety of natural science expertise in order to study complex natural systems that cannot be confined to a single topic of study. See our annotated version of the ALEC bill showing how ALEC's language can be used to peddle global warming denial in schools.
So where did this bill come from? We know that ALEC members include not only the Heartland Institute, but a who's who of dirty energy interests that stand to make money by denying climate change. More specifically, there appears to be a key industry operative who oversaw development of the ALEC bill. Her name is Sandy Liddy Bourne, the daughter of convicted Watergate criminal G. Gordon Liddy.
Alexandra "Sandy" Liddy Bourne runs an oil industry front group called the American Energy Freedom Center with former ExxonMobil
lobbyist Randy Randol. Bourne is a longtime affiliate of both the Heartland Institute and ALEC, currently formerly a Heartland senior fellow for environmental issues and formerly Heartland's vice president for policy and strategy. Prior to joining the Heartland Institute, Sandy Liddy Bourne was ALEC's Director of the Energy, Environment, Natural Resources and Agriculture Task Force for the from 1999-2004, before being promoted to Director of Legislation and Policy, where she oversaw all of ALEC's task forces and helped boost state enactment of ALEC's corporate bills from 11 percent to 20 percent. In Bourne's time directing ALEC's environmental task force, the "Environmental Literacy Improvement Act" was created and approved by ALEC's board in June, 2000.
While this ALEC bill was finalized, ALEC's Private Enterprise board chairman was Mike Morgan of Koch Industries. The Heartland Institute still promotes ALEC's "Environmental Literacy Improvement Act" on its website to this day.
Confused? Check out all the key players in this interactive ExxonSecrets map!
Heartland Payments to Federal Employee for Unscientific Climate Lesson Plan
The Heartland Institute repeatedly has shown it doesn't hold the scientific method in particularly high regard, even if their climate denial conferences are run under the banner "Restoring the Scientific Method." According to its 2012 fundraising document, Heartland is paying a US Department of Energy (DOE) official named David Wojick $5,000 a pop for modules teaching high school students that "whether humans are changing the climate is a major scientific controversy."
It's not. Regardless of whether David Wojick simply denies this reality or if he drank the Koch Industries Kool Aid, his climate credibility is zero.
The National Academy of Sciences found that 97% of actual climate researchers understand that global warming is happening and is primarily caused by humans burning fossil fuels. However, most K-12 students don't read the Proceedings of the National Academy of Sciences. I certainly didn't--I relied upon my teachers to teach science with unbiased integrity.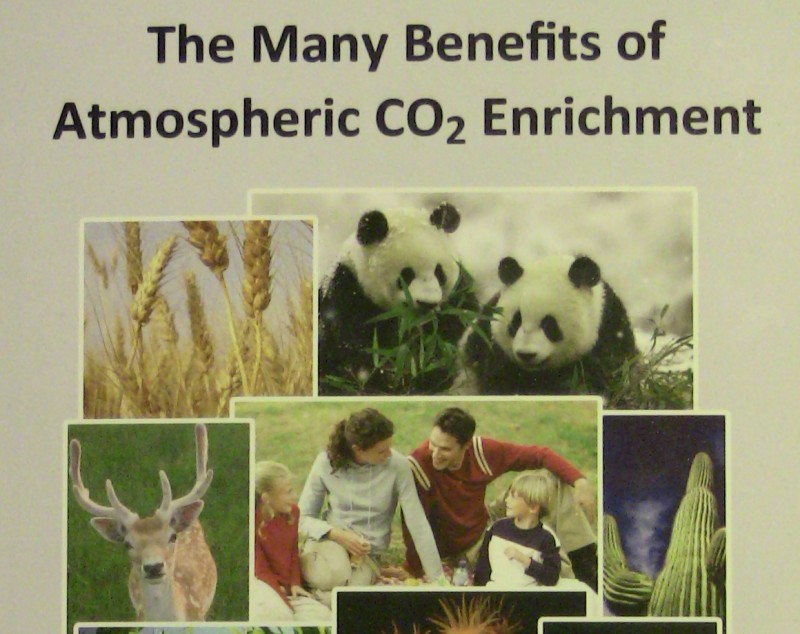 Wojick has expertise not in climate science, but the philosophy of science. He has done contract work for the coal industry through the "Greening Earth Society," a fairy tale organization established to promote the absurd idea that more CO2 in our atmosphere, such as from burning coal and other fossil fuels, is unconditionally good for our planet. This fallacy is promoted by other notable non-experts, such as oil billionaire David Koch and junk scientist Craig Idso, who produced propaganda films for the Greening Earth Society (a coal industry front group). Idso presented "The Many Atmospheric Benefits of CO2" to ALEC's Energy and Environment task force at their August, 2011 meeting in New Orleans, where he told ALEC insiders that we "should let CO2 rise unrestricted, without government intervention" since "CO2 is definitely not a pollutant."
The coal industry clearly wishes this were true, Mr. Idso.
In addition to accepting fossil fuel propaganda money alongside Mr. Wojick at the Greening Earth Society, Craig Idso also consults for the Heartland Institute. Idso's $140,000 contract with Heartland this year is to coordinate the anti-scientific "Climate Change Reconsidered" reports, an admittedly "political" project that includes contracts to two federal workers and multiple university faculty members. These payments US Interior Department (DOI) contractor Indur Goklany, who is under investigation by the Interior Department's Inspector General's office at the request of US Representative Raul Grijalva of New Mexico.
While the Heartland Institute is doing its best to make this unraveling scandal disappear, mainly by vilifying scientist Peter Gleick for embarrassing the Institute, Greenpeace is pushing for more. We continue to seek answers from federal bodies and universities whose employees are taking money from the Heartland Institute to attack science and disrupt the democratic process on behalf of tobacco companies, industrial giants and billionaire ideologues like the Koch brothers. Visit PolluterWatch for ongoing results of Greenpeace's investigation of the Heartland Institute leaked documents.
Key References:
Steve Horn, "ALEC Model Bill Behind Push To Require Climate Denial Instruction In Schools," DeSmogBlog, Jan. 26, 2012.
Brad Johnson, "INTERNAL DOCUMENTS: The Secret, Corporate-Funded Plan To Teach Children That Climate Change Is A Hoax" ThinkProgress Green, Feb. 14, 2012.
Brad Plumer, "Will your kids be taught that climate change is a hoax?" Washington Post Wonkblog, Feb. 23, 2012.
Katherine Bagley, "Science Educators Troubled by Heartland's Climate Curriculum and Author's Credentials," InsideClimate News, Mar. 15, 2012.
Evan Lehmann, "Heartland Institute is looking at 'every place' in grades K-12 for climate debate," ClimateWire, E&E Publishing, Mar. 15, 2012.
PolluterWatch: Greenpeace Investigates Heartland Institute Leaked Documents -- click to see investigation and ongoing updates.
4 a.m. Bali, December 2007, the first Tuesday of the two-week United Nations climate talks. My phone rings, waking me up. Blearily, and a little crossly, I answer it.
I was in Bali to run Greenpeace International's media for the meeting. The caller was someone called "John" who said he was an intern for a US NGO that I had never heard of. It was a small NGO, he said, who couldn't come to the meeting, but "john" asked me for a copy of the UN Framework Convention on Climate Change's media list for the meeting.
I confirmed I had a copy but refused to give it to him – he appeared a little suspect. The conversation ended when I put the phone down – the caller clearly wasn't bothered that he had woken me at 4 am, which was odd, as an NGO colleague would have apologised and hung up immediately.
Three days later I was again woken by the phone, with the information that the right wing think tank the Heartland Institute had just issued a press release slamming the UN for working with environmental NGO's. Heartland's press release posted a link to a recording of the 4 a.m. conversation earlier in the week.
Hang on, let's get this clear:
Someone from the Heartland Institute:
 – called me at 4 am, lied to me saying they were an intern for a US environmental NGO 
- recorded that conversation without my knowledge or my permission, and released the audio of the telephone conversation to the media, again without my permission.
Sound familiar?
This calls into question Heartland's bleatings about being misled by climate scientist Peter Gleick, and its threats to sue him for using false credentials to obtain information. They seem happy to use underhand tactics to get information for themselves, yet slam Gleick for doing similar. CEO Joseph Bast called it a "serious crime".
So I've written to Joseph Bast reminding him of this incident:
To recap, the Heartland Institute used a false organizational identity in order to obtain an internal document. It also surreptitiously recorded a telephone conversation (illegally, I believe, if it was done from your home state of Illinois) then posted it online to attack me in the same sort of privacy invasion you've been complaining about.

Does any of this sound familiar? It should, not only because your organization did all this, but it recorded itself doing exactly what you've been howling about was done to you. I'm calling on you to show the same level of post-action forthrightness of Dr. Gleick, admit what you did, and re-post the audiotape of the full conversation.
I haven't yet heard back from Bast.
DeSmogBlog has more examples of Heartland's history of deception, including leading someone to believe that a video they were being interviewed for was for the Discovery Channel rather than a climate denial video.
Given my first-hand experience of Heartland, and having also witnessed the theft of thousands of emails between climate scientists and Heartland's thousands of words about them (often willfully taking them out of context) in Climategate, I find it breathtaking that Heartland has suddenly become all ethical about the leaks of its documents.
These are documents that show plans to mislead children about the science of one of the most important issues in their future: climate change.
Also attending the Bali meeting was the right wing think tank, the Committee for a Constructive Tomorrow (CFACT), that had brought its crack team of climate deniers, including Lord Christopher Monckton, whom I'd seen hectoring journalists in the media centre.
Monckon was registered on the CFACT delegation but the UN media list itself confirms Monckton's attempts to register himself as a journalist, listing his email contact as Tom Swiss (Heartland's PR man), as with another denier, Will Alexander, whose email contact was another Heartland email address.
CFACT has received a total of $2,509,285 from fossil fuel funders ExxonMobil, the Koch Foundations and the Scaife Foundations since 1998.
We now know that Heartland had paid for a number of the deniers who were part of the CFACT team. Heartland money went to the New Zealand Climate Science Coalition that year, and NZCSC members, Owen McShane, Bryan Leyland and Vincent Gray were also on the CFACT team, along with a number of Australian deniers, Prof Robert (Bob) Carter, David Evans and Joanne Nova.
Desperate for the attention they weren't getting, CFACT even offered free Balinese massages to people who attended their event.
Why didn't I sue Heartland at the time? Simple: they would have loved the attention – and I had better things to do with my time, as the 192 governments who had already accepted the science of climate change worked towards agreeing the Bali Mandate.
As it was, no media covered Heartland's outraged press release and the whole incident served as an opportunity for me to talk in detail to a number of journalists about the climate denial industry and its funding by the fossil fuel industry.
My one failing is that I cannot recall the name of the NGO that the caller pretended to be an intern for. I didn't write it down at 4 am and, given that I'm not from the US, I didn't recognize the name the caller gave me. But he definitely didn't tell me he was from – or acting on behalf of - the Heartland Institute.
And given that I am one of the co-founders of Greenpeace's Exxonsecrets website, launched in 2004 to track money going from ExxonMobil to think tanks including the Heartland Institute for their campaign to promote climate denial, every alarm bell would have gone off if I'd received a telephone call from The Heartland Institute, no matter what time of day or night it was. I knew this organization and its peddling of climate denial very well.
I would certainly have remembered if they said they were taping the call, let alone agreed to that – and its subsequent broadcast.
PolluterWatch: Greenpeace Investigates Heartland Institute Leaked Documents -- click to see investigation and ongoing updates.
What an awkward entrance into 2012 for the climate denial machine!
Among the ongoing dubious deeds of the billionaire Koch brothers, the American Petroleum Institute's Vote 4 Energy propaganda and the House of Representative's love affair with the proposed Keystone XL pipeline, an indicator that policymakers refuse to acknowledge the seriousness of global warming, we already had plenty of debunking to do.
Then the Heartland Institute fell on its face, inadvertently aiding in a leak of its own internal documents outlining their strategies and finances for 2012. We are currently investigating several areas those documents drew our attention to -- see Greenpeace's Heartland Institute Investigations and the Joseph Bast PolluterWatch profile.
Heartland has played a central role in recent years gathering the global warming denial community for conversations with themselves at sporadically organized conferences to plan how they will continue to ignore, belittle and politicize the realities of climate science. Despite being a somewhat inferior player among tighter operations like the Cato Institute and the American Enterprise Institute, Heartland still managed to coax a large coalition of industry front groups and ideological hubs to follow their lead in selling climate lies to the American public.
Let's be clear, the work of the Joseph Bast and Heartland Institute is bad for this country and really bad for the planet and its people. Their actions are deliberately aimed to confuse the public about the science of global climate change and to block policy initiatives that would help solve the crisis. They are committing crimes against future generations by intentionally delaying action on global warming. This can mean life or death for vulnerable people worldwide, including here in the U.S. – note the increasingly extreme weather patterns we have experienced the last couple years, symptoms of a manipulated global climate. Bast and others in the broader industry-funded anti-science network need to be held accountable for their dangerous opposition to reality.
Ironically, it was a scientist fed up with Heartland's lies that procured the organization's documents. Dr. Peter Gleick's undercover sting operation was triggered when he was mailed a document titled 2012 Climate Strategy - apparently from a Heartland Institute whistleblower. He then he duped someone at Heartland into sending him their 2012 Fundraising Plan and Proposed Budget documents which confirmed the content of the whistleblower's memo while itemizing a pile of climate denial payments.
Heartland is now calling the 2012 Climate Strategy memo a fake to divert attention away from the key information revealed in the other documents, the authenticity of which it can't deny. Whoever wrote that Strategy Memo and sent it to Gleick clearly had close access to Heartland's inner sanctum and was apparently uncomfortable with the Institute's focus on climate denial.
At Greenpeace we have strict rules. We take no money from corporations or governments, and we are accountable for our actions. Peter Gleick's action was in line with great citizens of the world taking personal risk to expose corporate deception. Dr. Gleick boldly identified himself as the one who pulled the curtain back on one small window into the greatest fraud ever perpetuated on modern society: an intentional campaign to confuse the public about global warming to delay solutions and increase profits for fossil fuel companies and ideologues of the 1%.
According to some scientists attending a recent conference on water laws, where Dr. Gleick was meant to speak, he would have been given a standing ovation by his peers for his act of selfless civil disobedience. "He's a hero," said Denise Fort, professor at the University of New Mexico School of Law…. "He did something that we needed to have done, which is to expose the tactics of the Heartland Institute" (E&E News Greenwire, subscription).
Greenpeace has been watchdogging Joe Bast and Heartland Institute's global warming misinformation for more than a decade. In 2007, when they rose from a bit player to a ringleader in the global warming denier network, we wondered whose cash was enabling their work.
By that point ExxonMobil had dumped Heartland from its climate denial team after years of $100,000 plus donations as Heartland started saying and doing things that even Exxon couldn't be associated with. In the business of climate denial, when Exxon won't touch you, that's pretty fringe.
In 2007, in the wake of Al Gore's "An Inconvenient Truth", Heartland helped a new players onto the climate denial stage, like Lord Christopher Monckton, a UK denier who wasn't getting noticed in his own country but whose title made him look important to a US audience. It launched its new "globalwarmingheartland" portal with a campaign focusing specifically on undermining Al Gore. Heartland spent thousands on an ad campaign in the New York Times and Washington post with Monckton, Denis Avery - and a range of other deniers like the Competitive Enterprise Institute's Chris Horner - challenging Gore to a debate on global warming. Gore rightfully ignored it, knowing that this false "debate" on climate science was only designed to confuse the public.
After getting no response from Gore, in 2008, Heartland went on to organize its first climate conference on Times Square in NYC in a fancy hotel with not cheap rooms. We dubbed it "Denial-a-Palooza". The gig had to cost a million dollars to put on. They flew in every climate skeptic, denier, free-market libertarian extremist they could rustle up around the world, paying almost 100 speakers for their air fares, accommodation and offered a $1000 honorarium. Credible climate scientists noted how unusual this level of compensation would be at truly scientific events.
The deniers spent three days huddled with their lonely tribe wondering why no one was listening to them. The little media coverage that they got ridiculed them for their utter lack of credibility or authority on climate research. New York Times' Andrew Revkin covered the conference, attended by several hundred people. He noted: "The meeting was largely framed around science, but after the luncheon, when an organizer made an announcement asking all of the scientists in the large hall to move to the front for a group picture, 19 men did so."
During Denial-Palooza 2008 (the first—there have been six conferences), ABC News did a piece called "Welcome to the Denial Machine" on Dr. Fred Singer, the most extreme denier, who now has been revealed in Heartland's payroll. The main question ABC had was 'who's paying these people?' They included our ExxonSecrets graphic showing the longstanding connections between the attendees of Denial-a-Palooza and think tanks and front groups that were funded by ExxonMobil.
We now know the source of funding for that period – one wealthy ideologue backed Heartland with a $3.2 million grant in 2007, over half of Heartland's $5.8 million budget that year. Over the next four years (through 2011) Heartland pulled in over ten million dollars from this "Anonymous Donor," and hopes to increase AD's pledge to $1.25 million this year.
They may have trouble since Heartland's leaked documents led the Daily Kos to make a strong case for Chicago Industrialist Barre Seid as the "Anonymous Donor." Perhaps this is why Heartland quickly scrambled to victimize themselves for fundraising purposes in the fallout of this 'Denialgate' leak -- Seid appears to hate public accountability.
We now know how Heartland grew from a $1 million/year budget to over $7 million in a few short years even as ExxonMobil gave up on them. We also now know that Mr. Anonymous' donations are shrinking steadily year by year (down to $629,000 in 2011), causing a budget deficit of $1.5 million for 2012. This may be why there isn't a seventh Denial-a-Palooza conference in the 2012 budget. It's certainly why Joe Bast is seeking new donors like oil superbillionaire Charles Koch.
They better had, since they moved into their new shiny skyscraper offices from their previous "shabby" locations.
"Heartland is moving to new office space in January, from the rather shabby and difficult to find offices on LaSalle Street we have occupied for some 15 years, dating back to when we were a much smaller organization. The new office, on the 27th floor of a Helmut Jahn-designed glass and steel skyscraper located on Wacker Drive, across from the Chicago Mercantile Exchange, promises to dramatically raise our profile in Chicago's financial community." (Fundraising plan, p. 15).
There is clearly a small group of people and corporations who would like to change the storyline right now and direct attention away from Heartland's multimillion-dollar global warming denial campaign and focus instead on Dr. Gleick. Journalistic smugness, feigning a false sense of balance, misses the larger truth.
When the chemical, tobacco or fossil fuel industries are exposed by whistleblowers for engaging in the manufacture of lies, society must call them to account, assuming the governments are not too deeply buried in those same pockets. Whistleblowers do not expose such truths to benefit entire industries. They do it for your health and mine - and they do so at great personal risk.
Responding to the transparency created by this incident, Greenpeace is continuing to pick apart the Heartland documents and shed some light on what makes these ringleaders of climate denial tick.
Connect
Keep In Touch
---
---
Sign up for
POLLUTERWATCH News